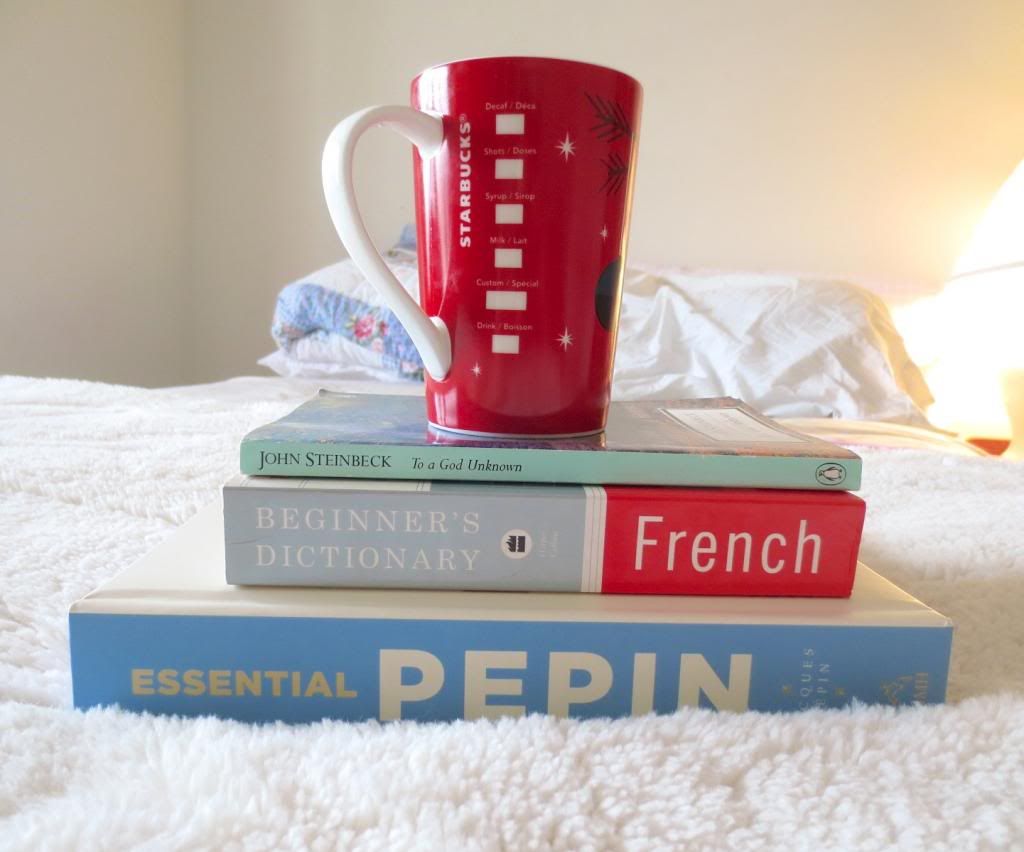 Before presenting you with my favorite reads of the week, let's just get a small disclaimer out of the way. Yes, that thing balanced precariously on the stack of books is a holiday Starbucks mug. No way was my favorite red cup going in storage after December 25th.
- Garance Dore's hilarious post on her
eye makeup revelations
had me nodding along in agreement. The story begins when she commits the beauty sin of sleeping in her makeup and wakes up looking "
drunk
hot." If heavy eyeshadow doesn't suit you, or if you've woken up to a Sunday morning smokey eye and thought,
not bad!
, you must read her tips. Don't worry, "don't remove your makeup at night" isn't one of them!
- If you want to stalk the closets of artsy, stylish ladies, head to
Closet Visit
for a browse around. Best inspiration ever to clean out your wardrobe and build up a collection of pieces you love.
- My sister and I spent a significant portion of our childhood pretending we were cats. When asked to draw a self-portrait in preschool, my sister drew a cat face.
This article
from the NY Times reassured me that this was totally normal behavior. It also has some interesting answers to why most children's books feature anthropomorphized animals. It does not explain why years later, Mr. E calls me "grumpy cat" and "mini bear."
- Akiko's
midi rings
are making me want to add some more to my collection! Any ideas on where to get some good silver ones?
- I'm still reading To a God Unknown, and my goal is to finish it before my next weekend reading post. In other news, this week I installed Rosetta Stone French on my laptop, and armed with a dictionary and my awful pronunciation skills, je suis prête à parler français! Is that right?! Unfortunately, flipping through the dessert recipes in Essential Pepin doesn't count as learning French.
It's so rainy today that all I want to do is have all-day-breakfast-in-bed and continue this reading list. But I'm off to work... happy (un)weekend!