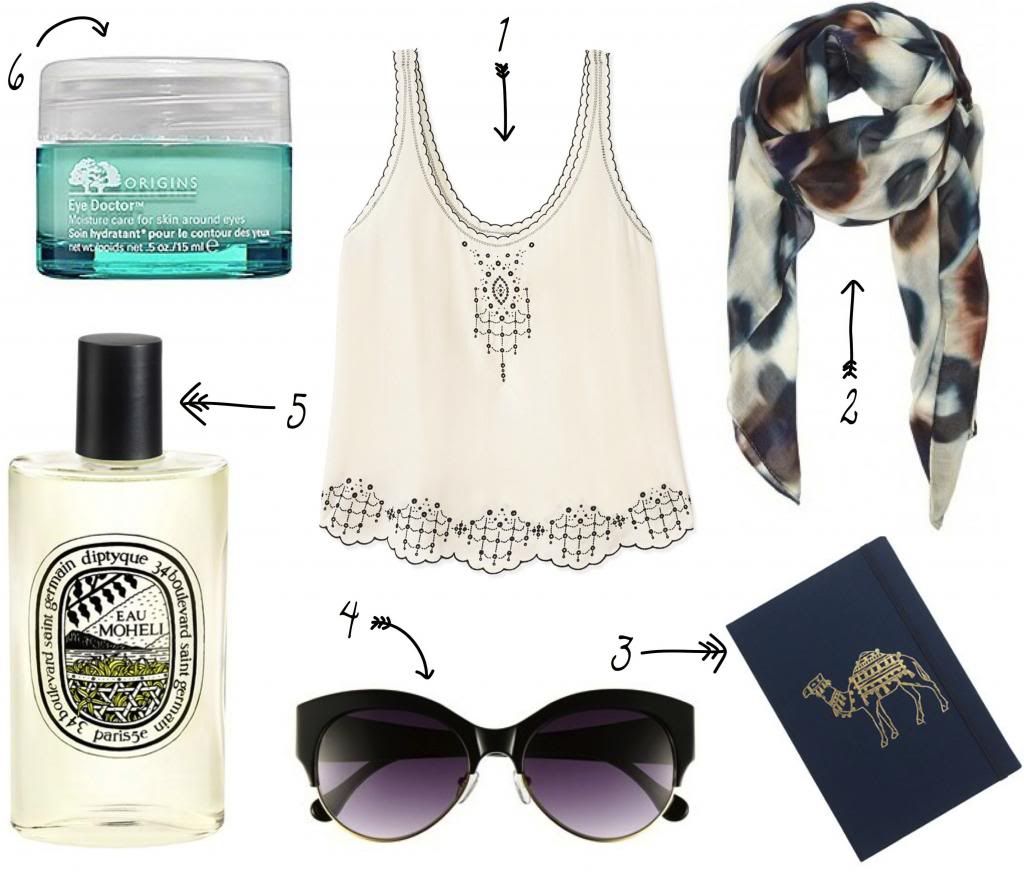 I haven't published a wish list in approximately half a year (?!?), which is probably good news because wish lists are dangerous things. Nonetheless, as I've been out and about window-shopping this summer, these items caught my eyes and haven't yet escaped my mind. I've already promised myself that a couple of them are strictly off-limits. But a couple others are possibly-maybes: you know, things I could maybe just maybe be convinced to purchase, if they happen to pass in front of my paws again. Let's be honest, it won't take much convincing...
1. Babaton Nate Blouse, $55 (sale), Aritzia
I could build my entire wardrobe from Aritzia (if it weren't so darn expensive!). I saw this blouse in store earlier this summer, and now it's on sale for about half the original price. Considering it's pure silk, I'm seriously tempted to snatch it up before it sells out... I'd toss a jacket over and wear it through the autumn.
2. Echo Scarf, $148, All Saints
Is it too early to dream up an autumn wardrobe? While browsing through stretchy denim and slouchy knits, this scarf caught my attention. I love the watercolor effect and the muted color scheme (it also comes in a darker, green-black version).
3. Gilded Canvas Notebook, $15,J. Crew
I should put myself on a notebook-buying-ban, after I purchase this camel-themed notebook from J. Crew. I think it would make a perfect travel diary, or a really nice place to keep wish lists (slaps self on wrist).
4. Elizabeth and James "Isabella" Sunglasses, $225,Nordstrom
Once upon a time I tried on these sunglasses... and then I bought the $5 close-enough knock-offs from Forever 21. At $225 I can't justify them. But I can give you a pretty good pitch about why they're amazing: they're the perfect cross of retro and modern, they don't touch my round cheeks and they'd go with practically every outfit I'd ever wear.
5. Eau Moheli, $98, Diptyque
No surprises that this is another captivating fragrance from Diptyque. The base note is the exotic beachy smell of ylang-ylang, but you might also detect pink peppercorn, patchouli, vetiver, benzoin and tonka bean. I sampled it and its lasting power isn't outstanding, but it is an eau de toilette, and I wouldn't be opposed to carrying the rollerball version in my handbag for top-ups.
6. Origins Eye Doctor, $34,Sephora
I'm on the last squeeze or two of my Lierac Diopticalm eye cream; it was nothing special so I'm looking for something else to try. I haven't heard much about this Origins eye cream, but it has a fairly high rating on Sephora, and unlike other eye creams on the market, it's not exorbitant. Have you tried it?