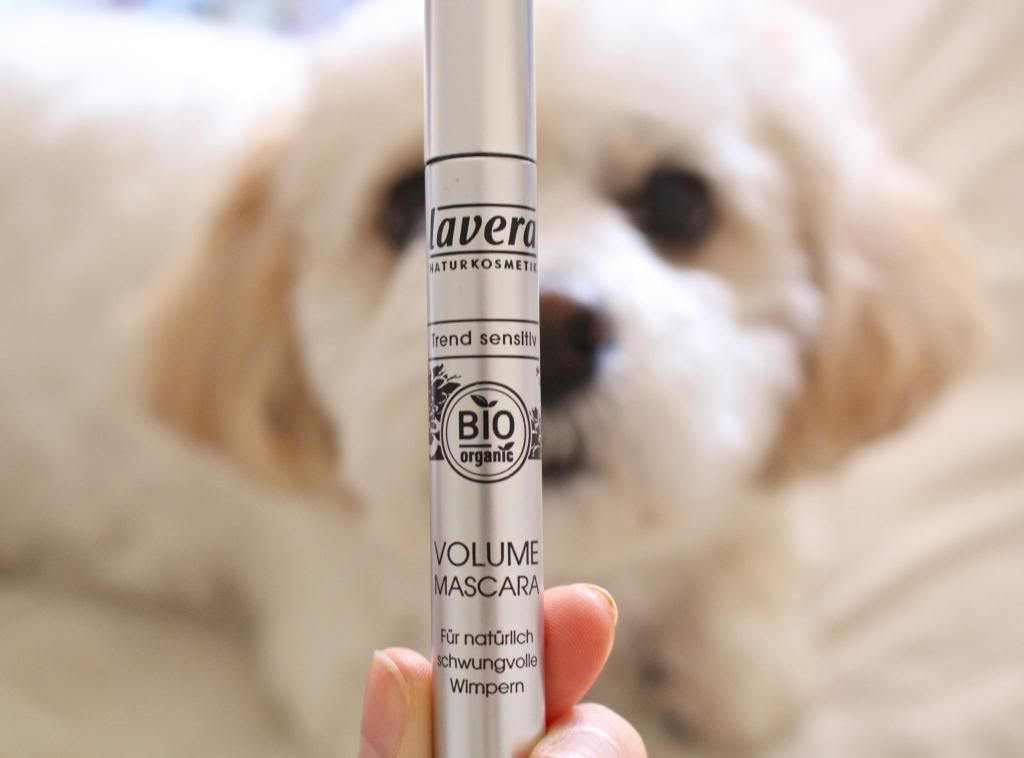 I have a hard time wearing mascara on its own: I wear it with eyeliner and/or eyesahdow, or I forgo all eye makeup. I've read it time after time: just a sweep of mascara on an otherwise bare face can make you look more awake, but I always think that mascara alone makes my eyes look alienesque, so if I have to choose just one makeup product to brighten my appearance, it's usually a bold lip. But I've found a mascara that might make me change my mind: Lavera's Volume Mascara in Black. This is my newest addition to my small but growing collection of natural makeup, and it's the first natural mascara I've tried.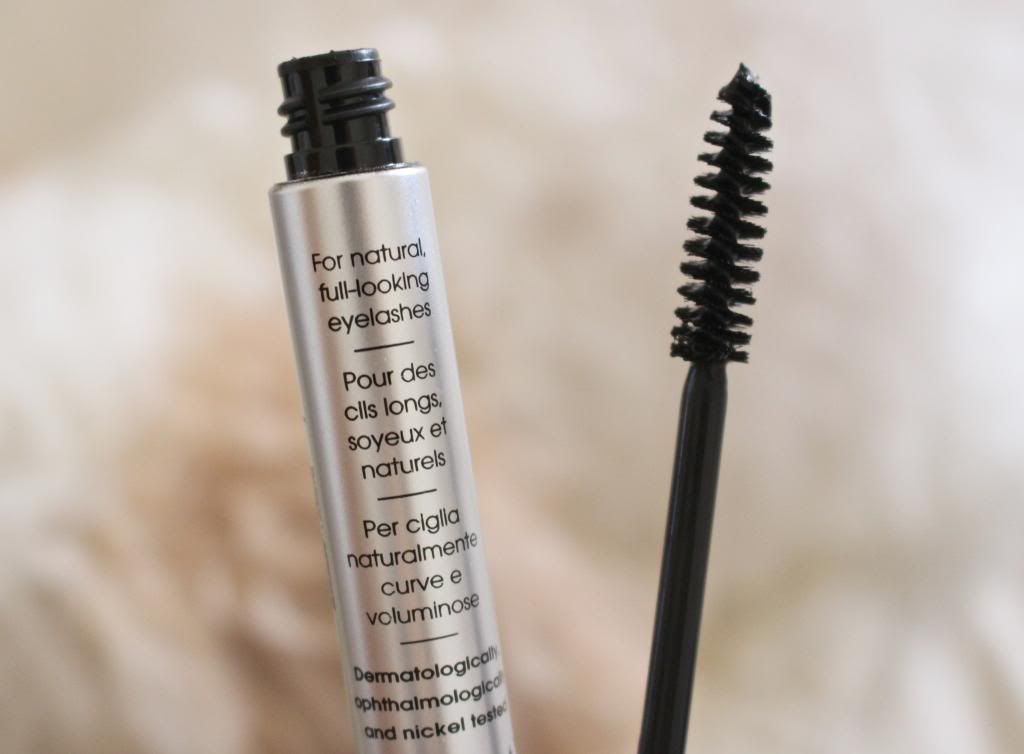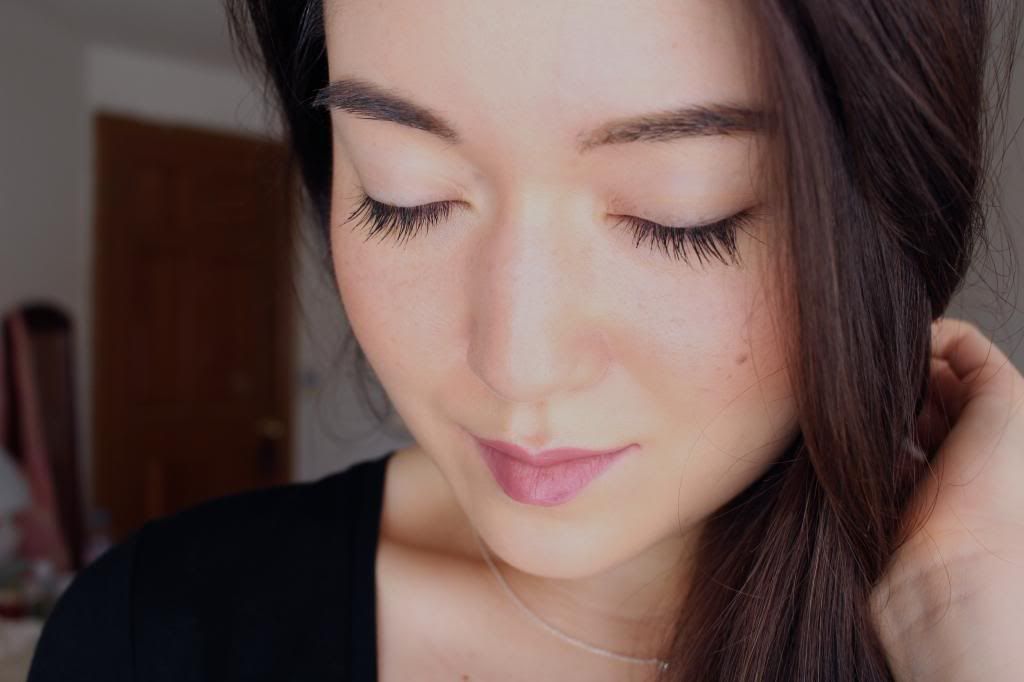 Lavera is a natural, vegan, cruelty-free brand that meets the guidelines for Certified Natural Cosmetics set by the
BDIH
, a German non-profit with a strict list of standards that all qualifying brands must meet. These standards include: no animal testing, no synthetic dies, fragrances, silicones, paraffin or petroleum products and no ingredients from genetically modified sources.
Lavera's Volume Mascara comes in slim silver packaging with a skinny, synthetic bristle wand. Although this mascara targets volume, I didn't think volumizing was one of its strengths. However, it did subtly lengthen, define and separate my lashes without leaving them overdone, clumpy or "spidery" (a word I cringe at, but it gets the point across!). It isn't particularly good at holding a curl, though that was no surprise to me because my lashes are quite straight and don't curl easily. On a related note, it's not waterproof (I learned this the hard way when I wore it to hot yoga); I don't use waterproof mascara on a daily basis, but for certain occasions it's the safer option, and it's generally better at holding a curl. The upside is that it's easy to remove at the end of the day. It's also suitable for sensitive eyes.
If you prefer your mascara to give a feathery, natural effect, you might enjoy this. It's the closest I've come to "my lashes but better" in a tube. One tube costs about the same as most high-end mascaras, and for that price I think a lot of people would be a little disappointed in how much (little) this mascara transforms your lashes. While it's not nearly as dramatic as my beloved
Bobbi Brown Lash Glamour Extreme
, the ingredients list is a good trade-off, and I do prefer the look this mascara gives for "no-makeup makeup" days. Heavy waterproof mascara can make your lashes brittle, but this mascara actually conditions your lashes with ingredients like jojoba seed oil and rose water.
You can find Lavera Volume Mascara on
Amazon
for $16. I'm definitely interested in trying other natural mascaras... if you have suggestions, please let me know!
Ingredients: Water, Grain Alcohol, Castor Seed Oil, Cetearyl Alcohol, Sorbitol, Tricaprylin, Hydrolyzed Jojoba Esters, Sodium Cetearyl Sulfate, Hectorite, Jojoba Seed Oil, Jojoba Seed Wax, Lysolecithin, Xanthan Gum, Jojoba Esters, Rosa Damascena Flower Water, Vitamin E, Sunflower Seed Oil, Vitamin C, Fragrance (from Natural Essential Oils). May contain: Iron Oxides, Ultramarines.